Japanese 45s related Todd rundgren


Todd Rundgren solo

I saw the light/Marlene
(Warner Bros. P-1135W '74)

First solo 45s issued in Japan.
Gatefold sleeve,Original inner has
dark green company sleeve.
Layout like a stamp on the wall

Hello it's me/Cold morning light
(Warner Bros. P-1274W '74 Jan)

Original sleeve artwork using
Inner has WEA company sleeve printed in blue & white.

>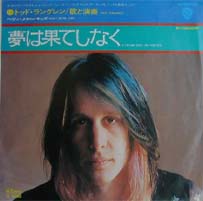 A dream goes on forever/Heavy metal kids
(Warner Bros. P-1303W '74)

Using diff photo of "TODD"LP photo session.




Good viberation/When I pray
(Warner Bros. P-38W '76 Aug)


Various photo from many session.
Diff cover from any country.

It wouldn't have made any diff/Don't you ever learn?
(Warner Bros. P-384W '79 March)

Cuts from "Back to the bars"
Sleeve artwork using LP cover.

>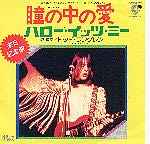 I saw the light/Hello it's me
(Warner Bros. P-62W '76.Nov)


Supecial issued only in Japan,as a first visit
Utopia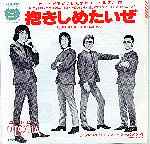 I just wanna touch you/Always late
(CBS Sony 07SP519 '81)


parody cover of the beatles,they had heads of
2 Rogers and Todd,Kasim and other parts made
of original fab four bodies.Amazing!
Kasim



Someone to love/This must be love
(Toshiba EMI EYS-17224 '82 April)

Cuts from his first album "Kasim".Rare.
Picture from promotional photo.


---
His production and covers

Loco-motion/Destitute and losin'
(Toshiba EMI ECR-10514'72)
Grand Funk Railroad


Top 10 hits in USA from first cut
of Todd-produced album"We're an American band"

Hurdy Gurdy man/It's all too much
(Nippon Columbia YR-79-VR'77 July)
Steve Hillage

cut from LP"L" produced Todd
Sleeve says playing with Todd Rundgren's Utopia,
produced and mixed bt TR

Love is the answer/Running after you
(Warner Bros. P-404A '79 April)
England Dan & John Ford Coley

Big hit in USA,this song is well-known as a their song.

Paradise by the dashborad light/"Bat"overture
(EPIC Sony 06-5P-5 '77)
Meatloaf

Second cut from Bad out of Hell LP
produced Todd in 1978.

Can we still be friends/Back in my arms
(Toshiba EMI ILR-20664 '80 March)
Robert Palmer


Only a cover song.

Dance the night away/Don't make our love a crime
(CBS sony 07-5P-250 '83 Oct)
Cheap Trick

cuts from "Next Postion Please"
same photo with LP cover.

Piece by piece/
(Toshiba/Capitol ECS-17529 '85 March)
The Tubes

cuts from LP"Love bomb"


I don't mind at all/Pencil and paper
(Polystar D07D-2031 '87 Nov)
Beorgeous Tagg

Their first top20 hits in the USA from Todd-produced album "Yo-yo"
same design with LP cover.
---
HOME