TODD solo and UTOPIA 80s
"Adventures in Utopia" Tour from late 79 to Spring 80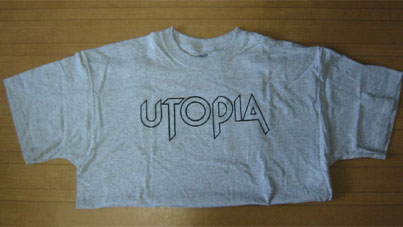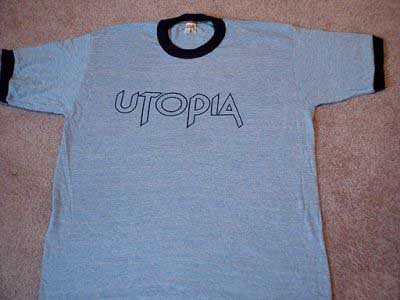 Here's other adventures tour Ts. Very simple logo only on front. different neck color.

Looks cheap. It's unbelievable but official. Illustrated T of thier 1979 shot.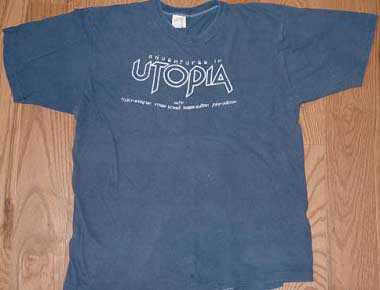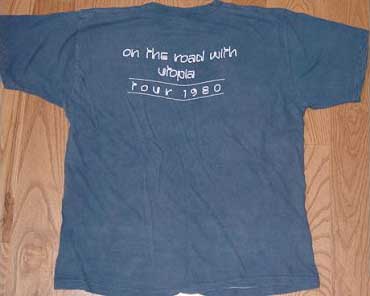 Logo with four member's name. Back side appears "tour 1980"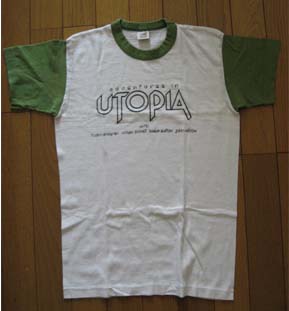 Same layout with above,but colored sleeve and no back prints.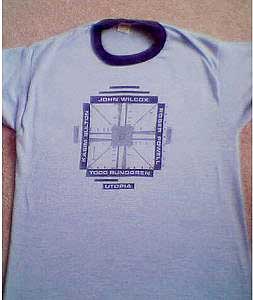 This is official adventures tour T. Designed of TV camera adjustment chart as seen on inner sleeve of adventures LP. This picture is from ebay.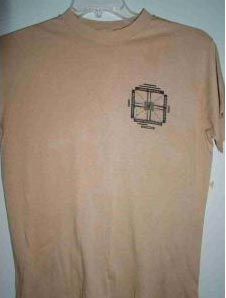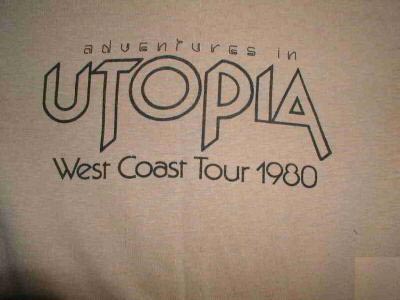 TV adjustment chart on front(same as inner sleeve with their LP) Back says "West Coast Tour 1980"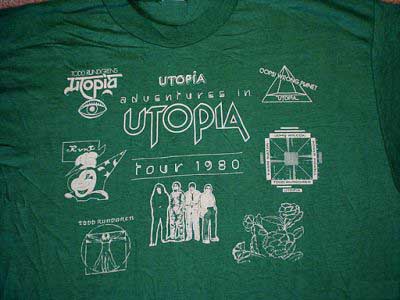 This is also official adventures tour T,I think. Rare design ever,because some Utopia and solo trademark on it.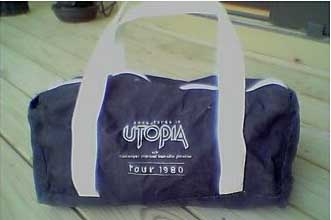 This rare bag was selling with other Ts in 1980 tour.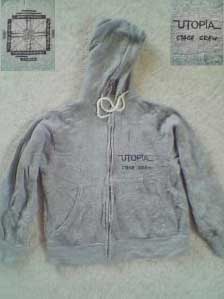 Sweatshirts with hood,front says "Stage Crew",and back designed with adjustment chart.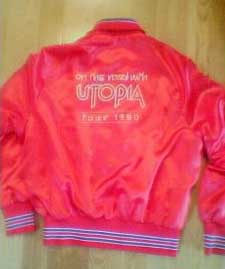 This red satin jacket is only for crew I suppose. I know blue one have only "Utopia"logo,no "tour 1980"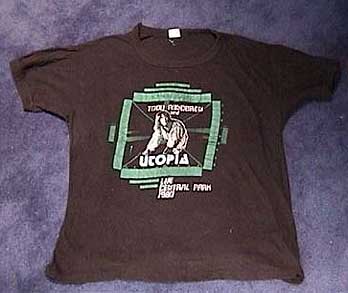 This picture is from ebay. Front says "Central Park 1980".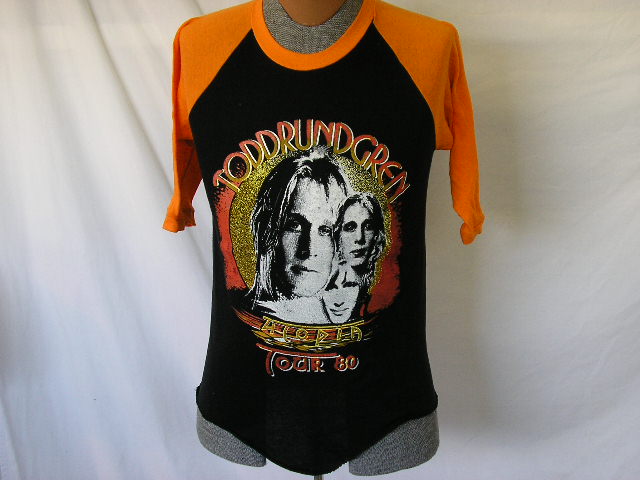 This picture is also from ebay. "Tour 1980". But it's not used real time photos. And similar with 70s unofficial baseball T shirts. I suppose it's unofficial sold in front of arena venues.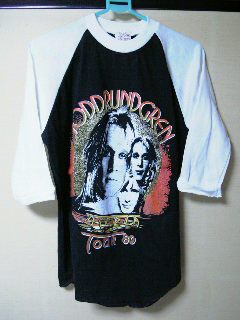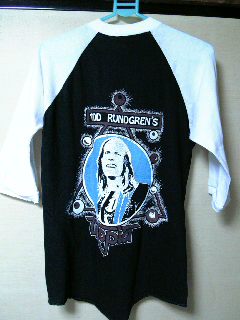 Seems like previous unofficial T shirts.

Benefit concert with Ian Hunter,Oct.1980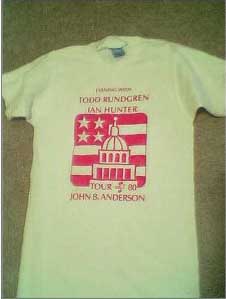 This is for benefit concert of Todd and Ian Hunter in Oct.1980. Official T.

"Deface the music" from Oct.1980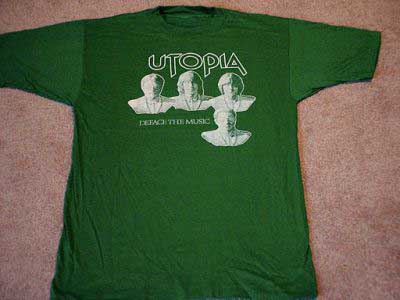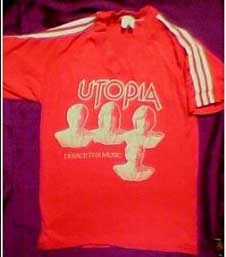 Design of Deface the music LP front cover. Also blue color was available. Baseball jersey is right.

Aother Deface T,baseball type.

"Swing to the Right" Tour from March 1981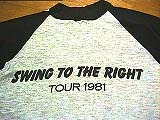 This is a two-tone baseball shirts marchandising during Swing to the right tour 1981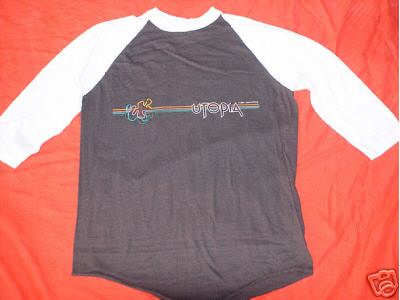 Sumilar T shirts like above. But backside have different messages.

This was sold on "Tour 1981".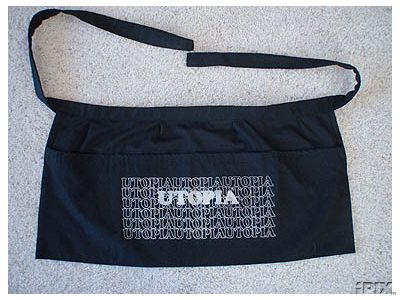 Other variation from above. Apron!

Solo tour for Healer LP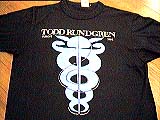 "Healing"mark printed in Small black T's when toured solo in UK in late 82. "EUROPE 1982" showed below both side of the name line.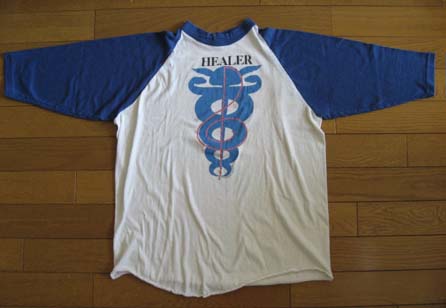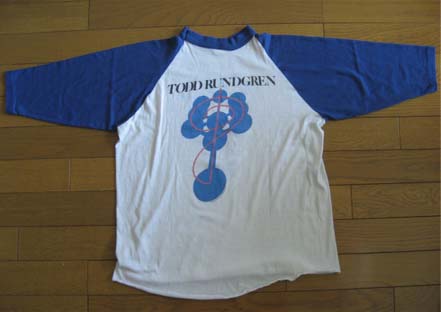 Color-printed Baseball T for Healer LP.

Network tour from Aug 1982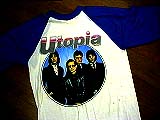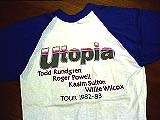 This was sold for network tour 1982 to 1983,baseball shirts with blue sleeve.

"Tourtured Artist Effect" International Tour from 1983-1984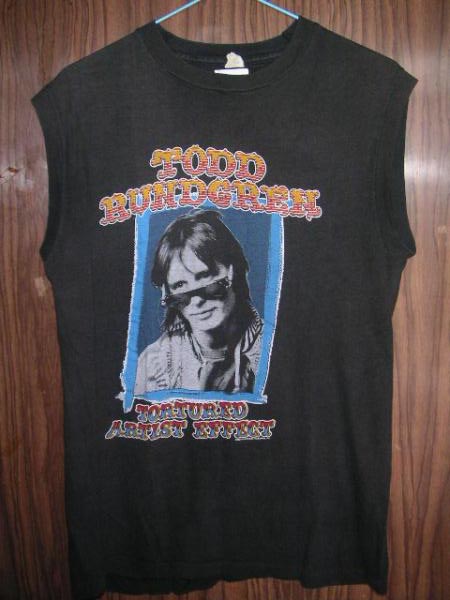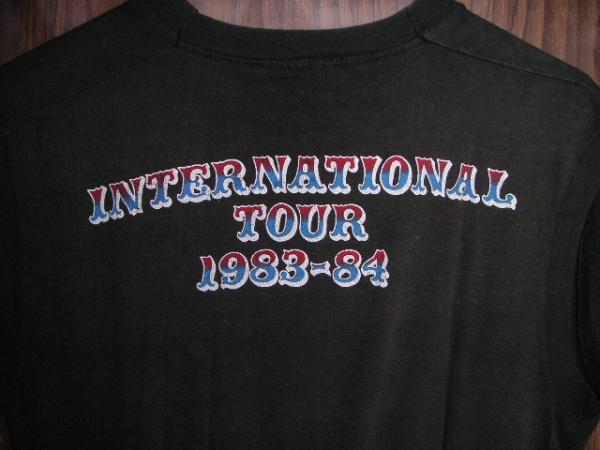 I don't know exactly this period was. No international tour at this time. Only solo tours were done in 1983-1984.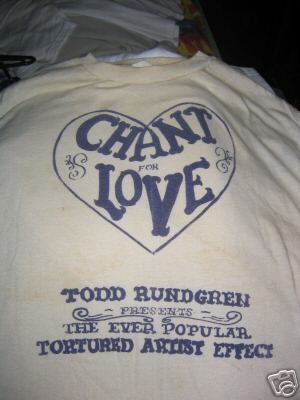 This is another Ever Popular T shirts from eBay.

"Oblivion" tour from April 1984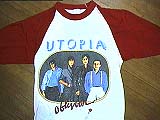 Red sleeved baseball shirts printed Oblivion logo and group shot.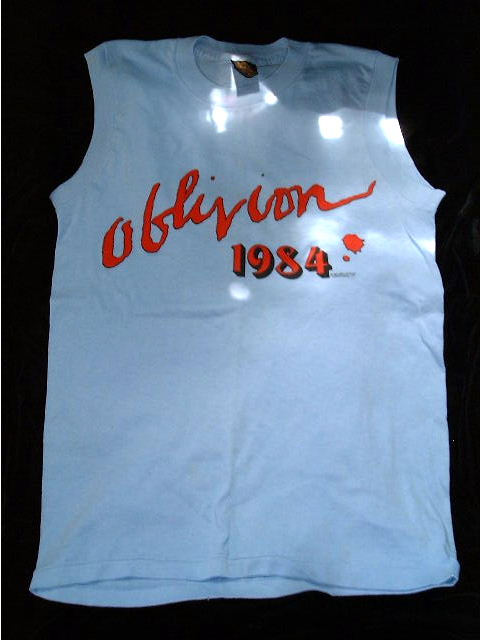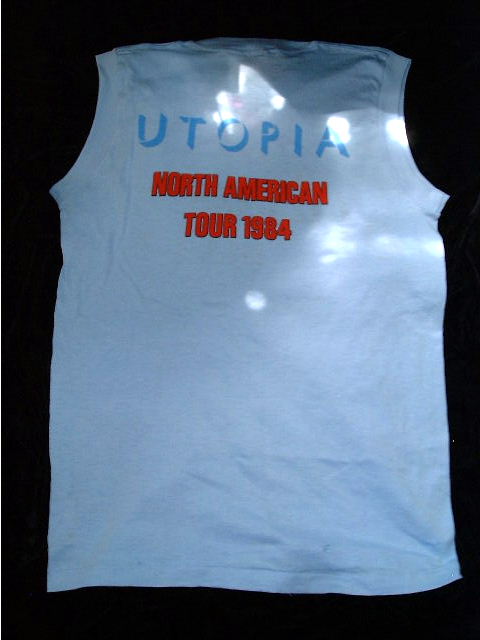 This T was sold for Oblivion North American Tour. No sleeve. Only logos was shown on front and black. Todd wore this T on stage in Philly 1984. This photo from ebay.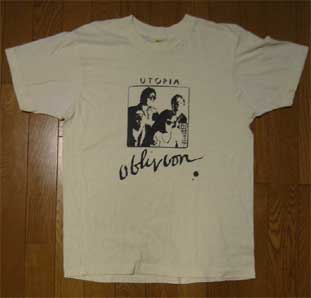 I don't know exactly but maybe unofficial Tshirts from Oblivion LP.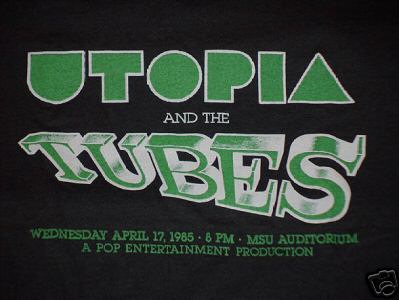 This T for double headliner concert in MSU Aud. April 17 with Tubes.

POV tour from April 1985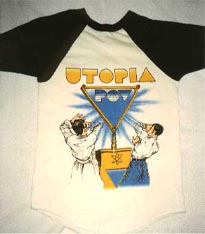 Baseball sleeve T was sold on POV era.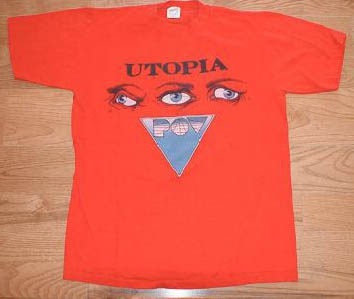 Another pattern of POV T shirts.

Acapella tour from Oct 1985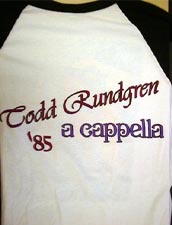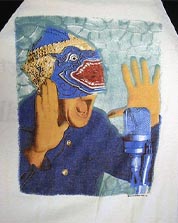 This baseball type T was sold on eBay. I have no detailed info about that. Looks like 1985 a capella tour.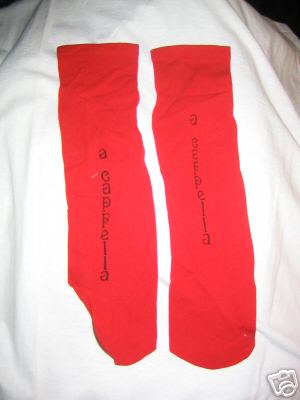 Unique item of tour marchandise. This socks was also sold on eBay. I think it's official.

Two week wonder tour(solo) from Dec 1896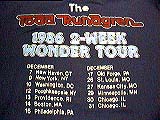 It was sold during Dec.1986 called "2-week wonder tour" in US. Strange logo of him was used I've never seen.

Solo tour in 1988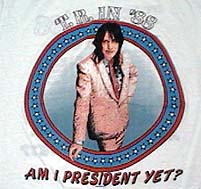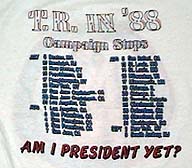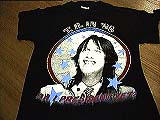 Here's a solo tour in 88 called "Am I President yet?"
White shirts have back print showed many cities and dates he performed.

Nearly Human Tour from July 1989
The shirts showed in left is back side of Nearly Human Tour official marchandise T shirts in 1989.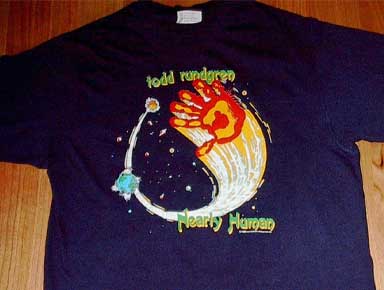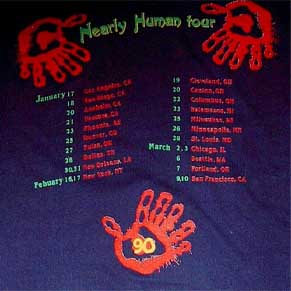 This T is another variation of Nearly Human T. It's like a witch's comet. Back shows tour dates in '90 Jan to March. Pix from eBay.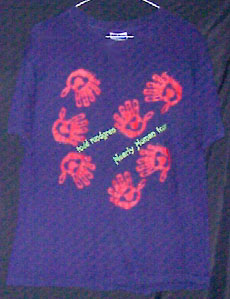 Here's one more different type of NH tour T shirts. Backside is the same above.
---
created Aug 27,1996 and latest modified Feb 12,2007 from ONE WORLD