From linernotes of "Somewhere/Anywhere?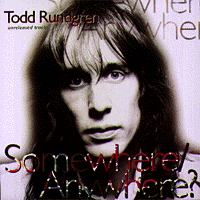 The difficulty in compiling a Todd Rundgren rarities collection is that there is barely a recordful in existence.I suppose that means that this must be the definitive,the only possible collection.Many artists don't take the process so personally that they always finish or else never finish a piece of work.If Iwere more process oriented the mere act of recording might cause me to produce more than I really needed to,but that never happens.I'm more concerned with wasting tape so those orphaned ideas are usually recorded over.The moment a goal appears less clear than the moment before,my interest soon moves on to something else.Performance,however,is a constant challenge and that's why this collection draws from so many live sources.In these instances the rareness is a factor of how unlikely I was or will be to perform the tune at all.Add a few oddments from here and there,an extremely unusual complete demo of a song I never intended to put on a record,some scraps for the samplers and,voila! The only rarities record you're going to get out of me.
August 1998
Todd Rundgren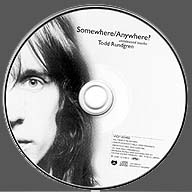 Many of the tracks from this collection were unearthed while Todd was at Bearsville this spring. He was producing the Columbia/Sony debut of Splender,a new band from NYC. Todd and I dusted off dozens of old reels from the Bearsville tape vault,many of which hadn't been played in twenty years or more. Many were 16 track masters recorded by Location Recorders,which was Bearsville's resident remote recording service. When not on the road,the Location track was parked outside of and connected to the Turtle Creek Bam,where it was used for studio recordings.
Quite a few of the tracks had to be mastered from the original two track mixes as the original multi track tapes were not available for remixing. We got a chance to break in Bearsville's new SSL console late one night as we auditioned many of the tapes used here. We had to work fast - Chrisse Hynde and the Pretenders were coming in to mix their new album with Bob Clearmountain!
It was interesting to watch Todd's reaction to some of these performances. As we listened to "Open my eyes" for the first time.Todd remarked with a smile "Luther Vandross is singing back ground in there somewhere"(Todd's reach in this business is truly amazing)! He seemed delighted to find the Who classic "Anyway,Anyhow,Anywhere" but had hazy memories of his performance at Carnegie Hall. Watching him standing,not sitting,at the console,furiously dailing up rough mixes,reminded me of my early days at Bearsville,when Todd would barrel up the hill to the studio in his jeep,unceremoniously dump a pile of tapes on the sofa,and dive into mixing something like "Back ti the Bars."
The "Something/Anything" promotion spots are vintge TR - turning what could be a mundage exercise into something special. it was a traet to go back in time with Todd- enjoy the ride.
Mark McKenna
July 23.1998
| | | | | | | |
| --- | --- | --- | --- | --- | --- | --- |
| Song Title | Date Recorded | Location | Personal | Recording Studio | Recording Engineer | Mixing Engineer |
Runt Band drums-N.D.Smart,bass-Stu Woods,guitar-Tommy Cosgrove,keyboards-Moogy Klingman,keyboards-Ralph Schuckett,guitar&keyboards-Todd Rundgren on WMMR-FM,Carnegie Hall,Bearsville Studio B