1997 Aug in Japan
Aug 15 Internet Seminer in Club Asia,Shibuya,Tokyo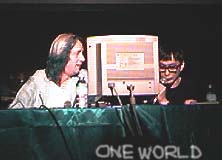 This event contained live and speech of Todd and other two Japanese musician.
Todd was watching their ones from upper seats with Michelle until he started to perform. Then he and event producer Kenzo Saeki spoke about his recent activities and own internet business. Also did demo using Netscape Gold 3 on mac showing big screen, and with a few freeze and restart.
Speech was consisted why he think to start patronet,developing new browser for paronet for uncrash,relationship between Microsoft and Apple,etc.
After that he played three songs with accoustic guitar
Hammer in my heart/Cliche/I saw the light(bossa nova)
Aug 16 at Tower records,Shibuya,Tokyo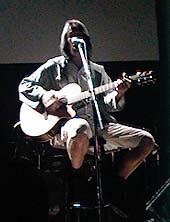 Next day Todd did an in-store appearance of accoustic live at Tower Records,Shibuya from 2 PM. Event was only for special people who bought domestic albums here. About 150 numbers of crowds could hear his voice. 15 minutes interview with translator and record company man,then started to sing 3 songs as follows;
Love of the common man/You've got to hide your love away/Lysistrata
After this we could shake hands with Todd.

Aug 17 at HMV Yokohama,Kanagawa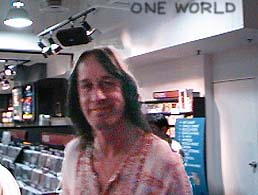 Aug 17 1PM,TR-i appeared at HMV Yokohama to do in-store event. It was held on small stage in cd floor. He took about15 min to interview,translate,answer the question from audience and started to sing 3 songs
After that girl brung flower,he catched and went out once. Then back to shake hands performance.
Event was end,but he didin't go outside of the building. Three and half hours later he was out,because he accepted interview after this event.
I'd want to tie you down/I want you/One world
pix by Mie Kawauchi
Aug 18 Tribute concert Akasaka Blitz,Tokyo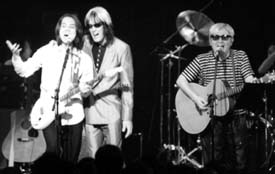 Ticket was already sold over 800 on advance. Maybe 1000 or more.
Paradise Yamamoto & Tokyo Latin Mood Deluxe
Open my eyes + 3 other songs

Osaka(means The King) with King costume
Ame("Rain",translated in Japanese)
Nani ga okiteruno("What's going on")
Haikei ore desu("Hello it's me")

Carnation
Dream goes on forever + 2 songs

Hiroshi Takano
Takano played several his songs and then introduced special guest Keiichi Suzuki and one more. Then Takano said "30 min before he decided to join.Todd Rundgren!". What a suprise. Todd was wearing Golden suits. They played Beatles' cover "Rain" and "Sons of 1984".

La Ppisch
Mazamashi Dokei + several other songs
They made some audience groovy and noisy.

During set change,DJ performed real time remix using Todd lp on dual turn tables. After this Todd was appear with accoustic guitar and electric piano in front of La Ppish set-up.

Event producer said he is in good humor. Todd started to play Hammer in my heart politely. But he didn't like initial tuning,so touched knob often. Then he continued tempo constantly "cliche" and "Play this game" carefully. At last TR broke concentration for tuning on Tiny Demons. However tonight he was quite different from usual. He changed feeling and started "Mistified/bd&b". TR hands out his guitar and went nearer to piano and played "Viking song" and "Can we".He clearly seemed to practice hard. Before "Free,male & 21" TR explained this song was for musical "UAI" performing two men. He made proof of good condition on Fidelity.



encore with La Ppisch at Blitz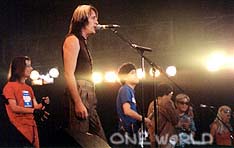 TR said I ALSO have tribute artists. "I want you" and "You've got to hide your love away". On last song "One world" he shook body harder. And TR left the stage.
It took some time to be back. T was rounded with tribute artists. They started to play La Ppisch version of "Compassion" in tribute cd. Backing band was La Ppisch,takano and others were backing vocals. And Michelle(with handheld video) danced hula with muumuu cloth.

Aug 23 at Shanghai
After Japanese event,Todd planed to move Shanghai for first China gig.
Four of our members joined in this event
Concert was held in center theatre of Shangri-la hotel in Shanghai. First they went to hall at 3:30 PM,Todd was doing soundcheck with beautiful Chinese set. And he wore black sleeveless shirts and black LONG pants.Then starts interview for TV.
At 7:30 Show was start wearing salong.
Love of the common man/Cliche/There goes inspiration/
Then moved to cd-e. When Todd played Family Values,some people were going out of here. Most of crowd seemed to be not his fan,because they had a kind of seasons ticket which could use only this place........
Concert went on like other Japanese concert,but many audience seems to be unknown about Todd himself. some audience went out during performance.